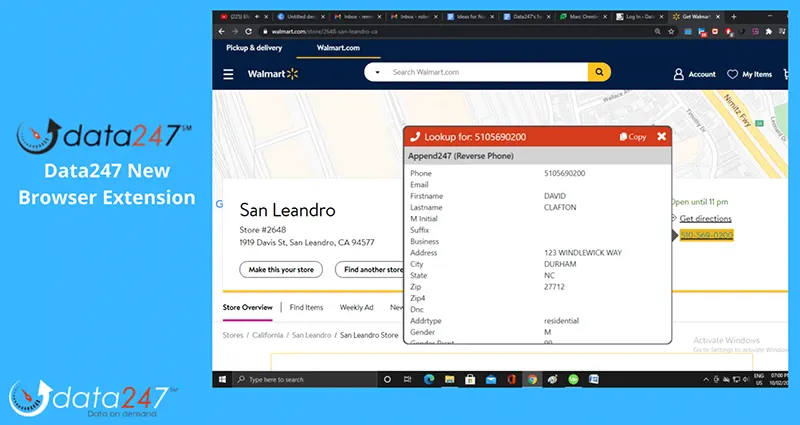 Data247 has added yet another way for members to access our data services; the Data247 Browser Extension!
We already offer a large variety of ways to connect to and use our data services, including file upload, FTP, iPaas integrations (more on this in the next blog post), 3rd party integrations, manual entry, and a very powerful API.
So, what does our browser extension bring to the table? For starters, it puts data247 data services at your fingertips. This can be very useful if the data you're looking up with us is browser-based.
The Data247 Browser Extension automatically highlights any phone numbers, email addresses, or IP addresses it finds on most websites. You need to hover your mouse over any highlighted item and click the appropriate Data247 service to retrieve the results.
That's not all. Our browser extension integrates our services with a wide variety of common internet browsers such as Google Chrome, Microsoft Edge and Firefox. Therefore, regardless of which browser you use, you can rest assured we got you covered.
How to Install Data247 Browser Extension
Installing the Data247 browser extension on your favorite browser is a breeze.
Click on a browser of your choice and have it installed on your browser automatically within seconds. The Data247 Browser extension is an ideal solution for use with SAAS and browser-based applications, such as:
CRM's
ERP's
Google Spreadsheets
Emailing Marketing Applications
Communication Platforms
Project Management Systems
Business Management Software
. . . almost any other website or web-based software!
If your Company offers a service that would benefit form direct integration with Data247, let us know, and we'll help you get started building it. For advanced users who can integrate our services into their existing applications, they can access our API documentation here.
How Data247 Browser Extension adds Value to your Business
Data247 browser extension acts as a catalyst that facilitates the integration of Data247 service functionalities on a browser. It brings much more personalization and results-oriented experiences for our customers in the following ways:
Automation
The Data247 browser extension will assist in automating your business preferences and needs quickly. It will not only make your browsing experience a lot more efficient and organized but will enable you to perform multiple tasks with less effort.
Improves your Business Productivity
If you regularly use browsers to perform routine tasks but make no use of browser extensions, then you're undoubtedly putting additional efforts into performing tasks that can easily be automated. The Data247 browser extension will help your business boost productivity by saving time and staying organized, as this is all done without you having to login into your application.
Improves your mobility
Our Data247 browser extension isn't limited to the office or your computers. That's a relief, especially during this pandemic period. Our Data247 browser extension improves your work performance while making it accessible anywhere, anytime.
Data247 Browser Extension Supported Services
The Data247 browser extension automatically highlights phone numbers, email addresses, and IP addresses on web pages and on documents saved on your computer. This allows you to look-up information about them with a single click.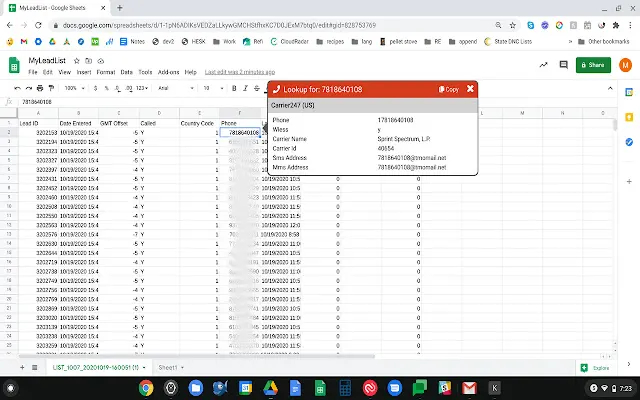 Below are the Data247 services you can access through our browser extension. You can get more additional information on each individual service by clicking on it.
Text@
For a USA or Canadian phone number, you can easily get its carrier name, Carrier type – wireless or landline number, email-to-SMS/email-to-MMS gateway addresses for wireless phones, which you can later use to send your customers a message via regular email.
Carrier247 (International)
Retrieve the carrier name & type, country name of any phone number worldwide.
Verify247 (Phone)
Verify a phone number is valid and able to receive phone calls.
Append247 (Name)
Using phone number, get the name of the person who owns it.
Append247 (Reverse Phone)
Using phone number, get its owners' name & address.
Do-Not-Call
Check whether a phone number appears on the Federal Do-Not-Call List.
Verify247 (Email)
Verify an email address on whether it's valid or able to accept messages.
Append247 (Reverse Email)
Using an email address, get its owner's name & address.
Locate247 (IP Address)
Retrieve the city, state and country of an IP address coordinates.

All of these benefits and services are just clicks away. All you need is to add extensions to your browser, and in a matter of seconds, transform your favourite browser into a functional and powerful platform that you and your employees use to access our robust on-demand data services.

Download our data247 browser extension on your favorite browser today and experience the difference:

Click for Google Chrome
Click for Microsoft Edge
Click for Firefox

.